Inside Out Sliders n' Slaw
Pair with Toasted Head Chardonnay
Serves: 4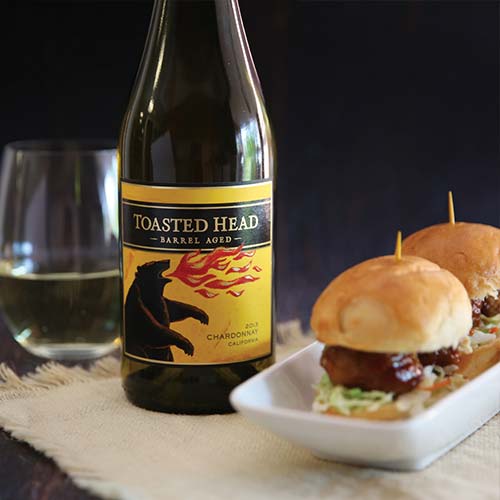 Ingredients:
1 oz Olive Oil
1/2 lb Applewood Smoked Bacon
1 lb 80/20 Ground Beef
1/4 cup sweet BBQ sauce
2 cups pre-made cole slaw
1/4 tsp smoked paprika
1/4 tsp salt
1/4 tsp pepper
1 egg
8 slider-sized hamburger buns
Directions:
Preheat BBQ. Pour olive oil in to a sauce pan over medium heat. Cut bacon in to ¼ inch pieces. Place all bacon in sauce pan. Cook bacon for approximately 5 minutes. In a large bowl gently mix ground beef, cooked bacon, smoked paprika, pepper, salt and one egg. Shape mixture into eight patties. Place sliders on grill. Cook patties until well browned and to desired level of cooked meat. Toast hamburger buns before adding pre-made cole slaw, inside out slider and BBQ sauce. Enjoy!