Blue Cheese Burger
Pair with Toasted Head Cabernet Sauvignon
Makes 4 burgers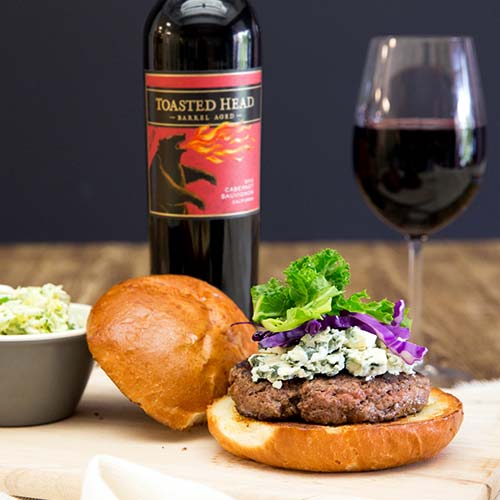 Ingredients:
1lb Ground Beef 80/20
1 Tbsp Dijon Mustard
1 Garlic Cloves, minced
1 Green Onions, chopped
1 cup Blue Cheese; crumbled
1 Egg
Salt and freshly ground black pepper
1 Tomato (thinly sliced)
Directions:
In a large bowl, mix beef, mustard, garlic, onions, egg, and salt and pepper to taste. Shape mixture into 4 patties and place in refrigerator.
Prepare charcoal or gas grill for cooking over high direct heat. Place the patties on the clean, well-oiled grill grate. Grill the burgers for about 5 minutes per side. Do not press down on the burgers while cooking.
If you don't have a grill, you can use a grill pan or a cast iron frying pan for the burgers. Serve on hamburger buns with crumbled blue cheese and lettuce.