Toasted Ravioli's
Pair with Toasted Head Merlot
Serves: 3-4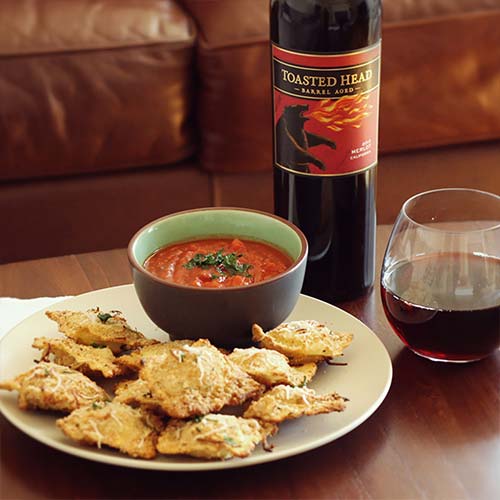 Ingredients:
1 lb Raviolis
5 large eggs
2 cups milk
2 cups bread crumbs
1 cup shredded parmesan
3 tsp parsley
1 tsp rosemary
Pinch of Salt
Pinch of Pepper
Marinara sauce, for dipping
Directions:
In a shallow pan, whisk together the eggs and milk. In a separate shallow pan, add bread crumbs, parsley, rosemary, garlic powder, parmesan, and salt and pepper. Dip each ravioli in the egg mixture, before dipping into the breadcrumb mix. Make sure ravioli's are well-coated before placing them on a baking sheet and freezing for 20 minutes. Heat about 1 inch vegetable oil in a deep skillet and fry ravioli until golden brown. Transfer to a paper towel and immediately sprinkle with the parmesan. Serve with the marinara sauce.